Testimonials from some of our graduates
Master Lee
Before I was introduced to Art of Eastern Science Academy, my understanding of Feng Shui was practically buying auspicious items, crystals, amulets and placing at auspicious location in my house or workplace to boost my luck & health. These items do not come cheap and every year there will be new auspicious items being introduced to the market.

Majority of them ("Master) will try and convince me by brainwashing me with all the negative things that will happen if I don't purchase them. As such, I distant myself away from Feng Shui, and it naturally created a resistance. Everything changed when my friend shared with me his encounter with Master Koh, Principal Trainer of Art of Eastern Science Academy. He engaged Master Koh to audit his house Feng Shui. There was no auspicious item involved, only the tilting of the house's main-door, position, and location of beds & stove.

Getting more curious, I met up with Master Koh and had a good chat with him. With some elements of uncertainty, I decided to try it out myself and signed up for Feng Shui classes. What amazed me was after
completing basic Feng Shui classes, I was able to understand how, and why my things happened in one's house and who will be affected the most.

As my mum had a history of medical condition for the past 20 years, I told myself it is time to change. I engaged Master Koh to audit my house Feng Shui and did all necessary from tilting of main door to repositioning and relocation of stove to harness the good energy into our house. With the knowledge that I learnt from the academy, I can now put into good use by monitoring the yearly and monthly star in my house and do preventive measures to ensure my family is safe and sound. Since then, my mum's medical conditions have not worsened and are looking forward to the day when she recovers fully. Compared to others, I am glad that I have saved a lot of precious time by knowing Master Koh in the first place, I am happy to learn from the right academy, with the right Master who has many years of hands-on experience and doing complex projects for both residential and commercial properties.

Master Andy Leow
I like to share some of my experience about learning Feng Shui course from Master Koh. I have taken Face Reading, Ba Zi & Basic Feng Shui at the beginning, After the Bazi Lessons, I understand which year is good and bad for me and what are the reasons that cause them happened. Beside knowing which element, colors and person can benefit my life, this knowledge also helps in making important decisions. Feng Shui is the only way that can help you when your luck is bad. Believe me, I have tried it.

I have also learned the remedies after auditing a house Feng Shui. Some Feng Shui masters only interested in making money by selling auspicious items to you. Real Feng Shui does not require spending on items such as auspicious ornaments or crystals. It is all about five elements!

Master Koh helped me a lot through his lessons. I not only learn theories but learn how it can be put into practice. You can see how it make a difference after applying the remedies. Best of all, Master Koh is not like other "Big Masters" who teach you Feng Shui or Ba Zi and assume that you know it all after you completed your lessons.

After I found that what I learnt is very useful, I took up more courses such as Zi Wei Life prediction, Zi Wei
Advanced, Er Zai Shi Yan, Xuan Kong Da Gua and Xuan Kong 64 Hexagram Date Selection. It teaches me to unlock a lot of secret of a person life how to fully use the Feng Shui and 5 elements to help myself and my family members.

After in depth exploration of Feng Shui, I can see how Feng Shui really affect a person's life path. How the improvement in their life changes after the remedies and cure. True Feng Shui is priceless. Especially in the 21st century modern Singapore, it is all about evidence not faith or belief.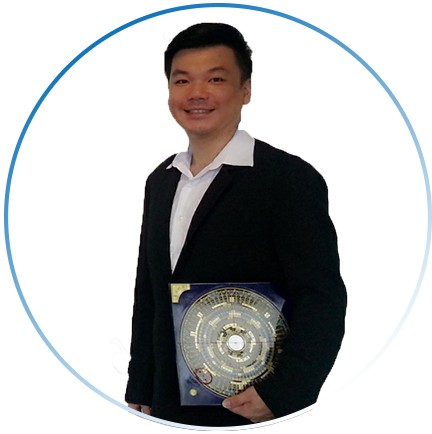 Master Mak
Before I got into Art of Eastern Science Feng Shui, I do not believe in the concept of Feng Shui. There
was so many Feng Shui Shop selling auspicious items. I happened to come across a close friend who introduced me to Master Koh. Based on his explanation, Feng Shui is about Qi and not about auspicious items. From there and then I became curious and wanted to know more. As a Christian, I know Feng Shui is about Science and not about religious, so I decided to give a try and I signed up for the course.

During my Feng Shui courses, I had a lot of family and personal problem. One day I invited Master Koh to audit my house and he told me my house's Feng Shui is awfully bad. Finally, I decided to do my house's Feng Shui. The Chinese Compass "Lou Pan" was used to check the degree and to plot out my house flying star. The flying star chart was used to verify correct my house's Feng Shui.

My study of Feng Shui was really fun, and it was easy to follow. Master Koh used simple ways to teach and enlighten us with his many years of experience in doing Feng Shui. After we completed the modules 1-5, we went to practical lesson to verify what we learned. We even go to Bright hill temple where Master Hong Chuan used the same Feng Shui method that what we had learned.

Now I even know how to verify my house Feng Shui and understand how Master Koh applied Feng Shui remedies in my house. Now I am a graduate of Art of Eastern Science, I can help people by practicing my Feng Shui Knowledge to detect the past, present, future incidents and to whom it will affect health or wealth aspects. I am very grateful to Master Koh because of him I can now "value add" to my friends and relatives.

Master Roy Chia
Ever since we shifted to Hougang in 2003, my family have become financially tight. All things started to turn from good to bad, especially after 2004, my father's health was getting worse (high blood pressure and diabetic).

I had request Principal Koh to further improve environmental of my family. He then asked me to show him my floor plan and the exact degree of my flat.

Upon reading the floor plan, he highlighted that the flat has sunken South East sector as well as North sector. He highlighted the how important of these two sectors such as "What will be affected? Who will be affected? When will be affected?" He then selects the date/time to apply the remedy, which is matched to my father and benefit the whole family.

After applied the remedy, 5 "Yellow" qi in the house (Bad Sickness Star) was weaken. My father diabetic reduced to almost normal level and blood pressure is average slightly above. The doctor even asked what did my father consume and intend to invite him for clinical trial.

I saw the amazing results and decided to follow Principal Koh's courses. Throughout the years of Meta-physics study, I understood ancient authentic Feng Shui various school of teaching and the applications are proven to be effective during my practical applications. The results are shown within few days. This has proven to me the amazing part of Chinese Metaphysics that has been passed down for 3500 years.

Feng Shui is not about auspicious items, Feng Shui consists of methods that showing the forces of the "good" and "bad" magnetic fields which are known as "Qi". From Art of Eastern Science Academy, you will get to know the authentic methods, the applications, school of leaching and you will gain useful practical knowledge from Principal personal experience gained from his big projects done by Principal such as hotel, resort and casino retail premises planning.

My life dramatically improves after applying the ancient classical techniques from the courses.